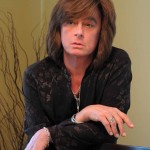 Classic Rock has some Joe Lynn Turner quotes apparently from an interview done after his London solo gig on April 5th. He is still insisting that Rainbow reunion is happening. Keep in mind that he has admitted previously that he had not spoken to Ritchie directly.
[Blackmore] is itching to do some rocking, and we're going to get together in the fall. Ritchie is really, really ready to rock. He still has the chops too.
I'm not sure if it's going to be a Rainbow reunion, or a bunch of remakes – which I destest, because you can't improve on perfection. But that's what's happening.
Regarding the negotiations that allegedly happened previously, Joe said that it fell apart because of Ritchie's commitment to his current band:
We had multi-million dollar deals set up with Live Nation. A 60-day tour to start with, HD 3D movie, everything – and then he had to finish the album.
Thanks to Classic Rock for the info.