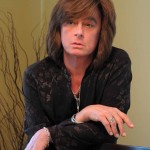 Joe Lynn Turner recently spoke to Metal Express Radio. The conversation was inevitably steered to the Rainbow reunion, for which JLT outlined his vision:
There`s been so much chatter on the internet about a Rainbow reunion. Is that all it is chatter or is there something of great substance there?

There`s been a lot of miss-speak from the journalists about this who like to twist phrases and twist words. All I can say is this. I`m in touch with the camp. I am not delusional, I know what I`m talking about and I`m not over talking it. I`m telling you as each month goes by what the news is. We are going to meet in the late Fall and that`s it. It`s probable but that`s it at the moment. We are going to get into a room together and if it works fine but if it doesn`t then we`re on our bikes. I think the only way it wouldn`t work is if we didn`t want to work at it. We both have the full intention of getting together and working on it. I have some ideas already knowing exactly where we should go and I`ll present it to Ritchie and I know he`ll say that I`m absolutely right, this is who we are. He`s also asked me if I remember about a song that I once wrote over 20 years ago, I have that stored away. He wants me to get it out and bring it down to work on.
Read more in Metal Express Radio.
Thanks to BraveWords for the info.