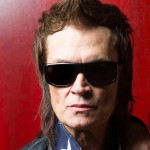 Glenn Hughes recently spoke to Metal Express Radio on the occasion of his upcoming UK tour. Among other thins, he revealed how the much touted Mark 3 reunion never came to life:
There was talk by David of working with Ritchie Blackmore again but it didn`t quite work out. If it had, would you have been part of that?

I have to be really careful here but I can tell you what you already probably know. About 6 years ago David and I along with Jon Lord were talking about doing something together as Deep Purple Mark III. We were talking about who was going to call Ritchie. Jon said he`d call Ritchie but he couldn`t get through to him. Then Jon got sick and died so it didn`t happen. After Jon died me, David and Ritchie did try to get something together but it never materialised. I can`t say why it didn`t but it just didn`t happen. I can say to you now that I don`t think it`ll ever materialise. David is so busy and I am so busy that I can`t lend my face to something that is not real. Yes, it would be great if Mark III could get together but we`ve missed that opportunity now. I said my goodbyes to Jon Lord at the Albert Hall last year and that is it. I`m still friends with Ian Paice and everybody`s good but I can`t live in that past. It is something that has gone. I only want to wish Ritchie the very best in what he does and long may the legacy of Deep Purple live on.
Read more on Metal Express Radio.
Thanks to Blabbermouth for the info.