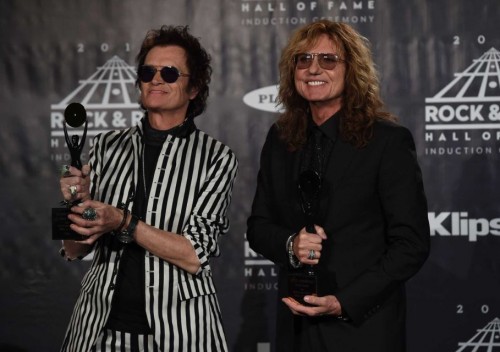 Hot on the heels of their induction, Rolling Stone has an interview with David Coverdale and Glenn Hughes, which they call an interview with Deep Purple. We'll forgive them, for they do not know what they do.
On the conspicuously absent Ritchie Blackmore:
Glenn Hughes: Here's the deal: I tried to coax him into it, but I had somebody that's on the inside of our community that he was going to show up, and I said — on Twitter, goddammit — "I hear Ritchie's going to show. Wouldn't it be great for the fans?" And I got such a telling off by his camp, and I said, "I'm really sorry, I really heard that he was coming." It was a little scary for me; I just wanted to be friends, you know? David and I can't figure out why and the fans can't figure out why.

DC: Ritchie's an interesting character. He's got his own story and I think he knows that. Glenn and I share each other's story for over four decades. And we've stayed very much in touch. This is the first time I've seen Ian Paice for over 20-something years and he worked with me in Whitesnake with Jon Lord. So it was fascinating to reconnect, but the root of a happy family is total lack of communication, I understand.

GH: I did the Jon Lord tribute at the Royal Albert Hall a few years ago. I did get to see everybody and say goodbye to Jon, which was a really magnificent evening. But the whole thing is, Jon not being here because he's deceased, and Ritchie not being here, is a little strange. But we'll continue. The band is important… I dedicate this to the fans.
Read more in Rolling Stone.