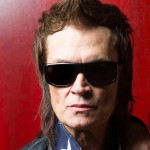 With all this RnR Hall of Fame hoopla, looks like Deep Purple are getting more coverage by the likes of Billboard and Rolling Stone than in the previous 25 years combined. Billboard has some quotes from Glenn Hughes clarifying that he indeed will be attending the induction ceremony (in case anybody had any doubts):
All I know is I'm getting the award. There's a lot of gossip and innuendo about who's saying what. I'd love to play. I'd love to sing. And so would David.
A month ago David said to me, 'Shall I reach out to Ian Gillan to figure out what we're gonna do?' He came back and told me that there's a problem that Don and Steve aren't getting inducted and there's all sorts of scenarios with that and grumblings and this and that, and I said, 'Well, I'm just gonna stay out of the way,' and Coverdale is as well. If Ian Gillan wants to run the show on behalf of his Deep Purple that's his business; my business is to show up and gracefully accept my award. But we're really hoping that we will be invited to sing. I'd like to think that Deep Purple can be just one big happy family on the night, y'know? Egos outside the door and be graceful in what we do.
On the possibility of Blackmore attending the event:
You just never know with him, but I'd love it if he showed up. I just hope he has the balls to (attend), and for God's sake he bloody wrote those songs. he wrote those riffs. He wrote 'Smoke on the Water.' Whatever happened — the eccentricities, the behavior, the name-calling and all that stuff — I say let it all go. Blackmore should be there accepting his award. I'd be very upset if he didn't.
Thanks to Bravewords for the info.