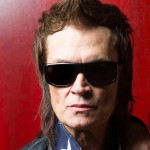 Billboard has a writeup of an interview they did with Glenn Hughes on the occasion of his upcoming US tour. It's not a full blown interview, rather some quotes plucked and sprinkled here and there.
Glenn's solo output swings like a pendulum between funk and heavy rock, and it sounds like the new album will be on the heavy side:
It's possibly the heaviest record I've ever made. I don't want to confuse it with horns-up heavy; it's not metal. But it's definitely f—ing heavy. It's dense. It's dark. There's some aggression on this record. Every bloody track is begging to be played live.
The yet unnamed album is due in November via Frontiers Records, after which a keyboard player is said to join Glenn's band on the next tour leg.
On the future of Black Country Communion:
Black Country will be playing, but what I can't say is how many shows, and where. I would think that'll happen next summer. We all know Joe books a year ahead, and he's been doing it for 30 bloody years. And I'm doing it on my own now, and I'm in love with playing on my own and going about my own business with my own band and own team. So I totally get what Joe's doing. But we've spoken about doing the record and then we spoke about doing shows, and I would think we'd do some [shows] even if it's not any kind of big tour.
Read more in Billboard.
Thanks to Blabbermouth for the info.