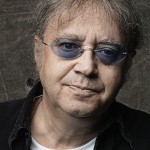 Billboard has an interview with Paicey (who seems to be the go-to spokesman for the band these days). He didn't say anything he hasn't already said to Rolling Stone, just reconfirming the talking points:
somebody probably will show up at the induction ceremony;
who that will be and who will be performing what (if anybody and anything) is still up in the air at the moment;
everybody who was and is in the band should have be inducted.
Not surprisingly, Glenn Hughes is very enthusiastic:
There's a lot of mumbo jumbo from other members, but I'm excited. I don't have anything to say negative about this. And more importantly this is really important to the fans of the band Deep Purple, the four or five decades this band has been around making music. It's a grand step in music history for anyone. There's only so many people who get into the Hall of Fame.
Read more in Billboard.