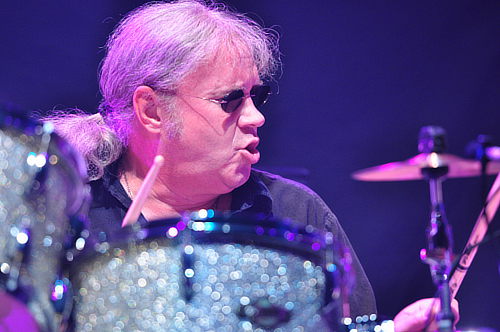 Hot on the heels of the Hall of Fame announcement, Rolling Stone magazine has published an interview with Paicey:
Do you think part of the problem is so many voters are in America and you were never quite as big here as you were overseas?
Of course, that does effect what people are aware of. If you're not seen on the U.S. touring circuit very often, then why would U.S. voters pick you? It's not a criticism. It's just a reality of life. Certain parts of the world have different musical tastes now. I'm not saying there aren't a lot of rock & roll fans in the States, but what is covered by the media and what is thrown in front of people by TV, like the flavor of the month, segregates things quite badly.

We'll do a show where we'll have a wonderfully mixed audience of kids in the front, then people that are slightly older until you get right to the back. In other countries, you just have an audience of more mature people or just kids. It's been broken up in a way, which is so sad. The best shows are where everybody, of whatever age, are experiencing the same thing and getting the same buzz out of it. You need the kids to kickstart it, and once they get it going, the old folks remember why they went to a rock & roll show in the first place. It's a wonderful feeling when it all kicks off like that. In the U.K. and the States, the media has cut the generations in half away from each other. It's very sad.
You're going to come and perform, right?
I have no idea. All I've heard is we've got the thing. I just learned this two nights ago, and I've kept my big mouth shut. This is the first time I've discussed it with anyone. Whatever else is decided, we'll make a decision on that when it comes through.
I'm sure in the coming months a lot of fans are going to fixate on who exactly will play that night, and whether or not Ritchie is going to come.
As an ongoing band, we need to take into account how the present members feel about that, the guys that aren't involved in this evening. We don't have salaried guys with [keyboardist] Don [Airey] and [guitarist] Steve [Morse]. They are fully accredited members of the band and they share in everything, and into decisions as well. They will have to be consulted and see how they feel about anything that the three of us originals think we would or wouldn't like to do.
Read more in Rolling Stone.
Thanks to Blabbermouth for the info.