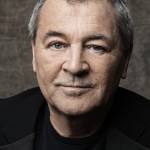 From thew latest installment of Dear Friends published on Caramba!, it sounds like Gillan will not be accepting the induction:
Dear Friends, Families and Fans,

Putting the past shenanigans to one side, the induction is not – in clear fact – for Deep Purple.

It is an arbitrary selection of past members, which excludes Steve Morse and Don Airey; both of whom have been with the living breathing DP for a very long time.

Obviously this is very silly, and so my response is quite simple: 'Thank you very much'.

And….what a coincidence…This morning I got an invitation to a wedding from some dear old friends. Unfortunately my family was not invited and they said that I would be required to sit next to my ex (we divorced decades ago) at the wedding feast.

They were shocked when I called to thank them and decline the invitation.

Cheers,
Ian Gillan
On the same note, very thoughtful comments on HoF from a fellow inductee Steve Miller, who called the Hall "an exclusive private men's club" with "an elitist nominating committee" and "cynical" voting process. Miller seems to know what he's talking about as he himself sits on the board of Jazz at Lincoln Center in New York City. His interview in Milwakee Journal Sentinel is well worth a read.
Thanks to CP and nupsi59 for the heads up.