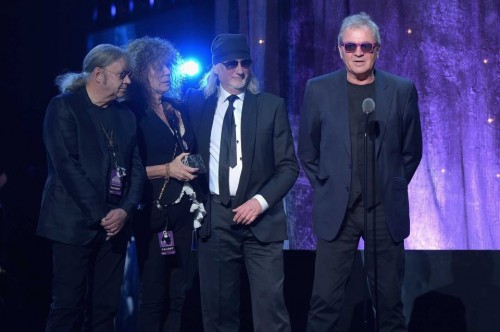 The Rock & Roll Hall of Fame induction ceremony was held yesterday, April 8, at the Barclays Center in Brooklyn, New York. Gillan, Glover, Paice, Vicky Lord, Coverdale, and Hughes were on hand to accept the induction. No miracles happened. Blackmore didn't show up (just like he's been promising for a while), and Rod Evans didn't come out of the woodwork.
The band was introduced by Lars Ulrich of Metallica:

Rolling Stone magazine has transcriptions of acceptance speeches. Mind you, reports are they are not exactly 100% word-for-word accurate. For example, Gillan did mention Rod Evans when naming everybody who was in the band, and (as far as we know) Roger Glover is not in love with 'Marie'.
Ian Gillan:
Thank you. That was amazing. Speechless. Great honor. It's very humbling to be amongst this exalted company. I'd just like to mention briefly the names of all the people in Deep Purple, whether we've been inducted or not. Starting at the beginning, Nick Simper, who played bass in the original band with Ian Paice, Ritchie Blackmore, and our beloved Jon Lord. And Roger Glover came along and after that was David Coverdale and Glenn Hughes. And then Tommy Bolin and Joe Lynn Turner and a great, very important year with Joe Satriani. Twenty-two years ago, Steve Morse joined us. And then there was new kid on the block, Don Airey. He's been with us for nearly 14 years. And that's about all. Every one of them has played their part in this remarkable band. You know, this is not really for us. I think this award is very much for families and business connections, our crew and our friends who have been absolutely amazing, watching for over 50 years. Thank you.
Roger Glover:
Finally, we're here. Thank you Ulrich, for reading out what I wrote, and thank for all your support and everyone else who has supported us over the years. It takes a small army of people for each one of us to actually be here. And the word "thank-you" isn't quite enough. Our families ad friends that put up with us not being there. There is an enormous amount of people we should thank, and I'm not going to go through their names. I can't remember them. My friends in Deep Purple – Ian Paice, Ian Gillan, Jon Lord, Ritchie Blackmore – changed my life forever. And I'm deeply indebted to them, as I am to all you people for making this possible. The fans rule. You do. And my family, my daughters, Jillian, Lucinda and Melody. My love, Marie. And all those people who have supported us. But not least of all, Bruce Payne, our manager, who has been with us as agent and manager since the early Seventies. He's been with us through all the peaks and valleys of our career. Thank you very much, and thank you all for being here.
Ian Paice:
This delightful lady is Jon Lord's wife, Vicky. We thought it was really important and necessary that she would be here to represent our good pal, who left us four years ago. Vicky is going to hold on to this. I'm the guy who has been there from the beginning. I've seen it all. And when I say I've seen it all, I mean it. The good, the bad, the crazy, the stuff where we go, "How the hell did we get into that situation?" The bands are a weird conglomeration of people. You can work together, and you can create wonderful things, and then you find that you can't deal with each other. You can see a way out, you just can't get there. You look back, and you wonder how you can be so stupid. But you come again, so. There's nothing better. So thank you very much for this honor. And for all the fans that have been with us through all the years, we thank you, too. It's like watching your own football team. If they win, you're part of it. And for the fans, when their heroes get a pat on the back, they feel part of it. So for them, thank you very much. Have a great night.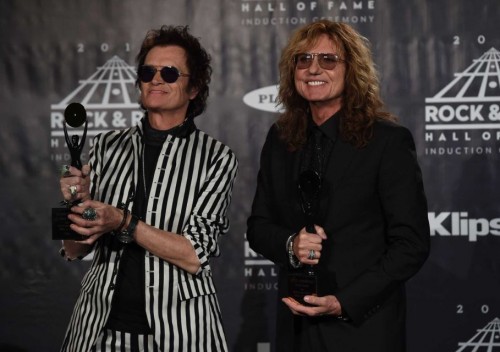 David Coverdale:
Good evening. How are you? Nice to see you. First, I'd like to thank and express my appreciation and gratitude to the Rock and Roll Hall of Fame, for the honor of being inducted in such a regarded institution with so many of my heroes: Hendricks, Miles Davis, Muddy Waters, Otis Redding, incredible company. I would also like to offer my sincere congratulations to all past and present members of Deep Purple, my incredible musical mentor, Richie Blackmore. And particularly, the very much missed Tommy Bolin and, of course, the immortal Jon Lord. I'd like to particularly thank all the fans of Deep Purple around the world. You not only keep the music alive of the band, but you continue to support all the offshoot bands, as well. My thanks also extend to the wonderful musicians in my band, Whitesnake: Reb Beach, Joel Hoekstra, Michael Devin, Tommy Aldridge. My amazing business team of David White and associates, John Payne, my friend and lawyer, Glenn Davis… I'm so honored to be here tonight, my friend and co-producer for almost 30 years, Michael McEntire, my dear friend and lovely assistant, the lovely Christie Lee and, last but not least, my amazing incredible family. My beautiful children, Jasper and Jessica. And the most inspiring person in my life, my beautiful and beloved wife Cindy. I love you. I love you all. Music was been there for me when no one else was. So, thank you. Be safe, happy and don't let anybody make you afraid.
Glenn Hughes:
Hello, my name is Glenn Hughes, and I am so grateful to have been given the gift of music. I was born in the United Kingdom. But my soul was born in Detroit. And I found my way to California at 19 years old, brought to America by my friends. When I got off the plane in San Francisco, I said, "Well this isn't the West Midlands and the Black Country anymore. Do you want to live here? Do you want to live in this country?" The answer is very, very clear. I want to thank Roger Glover, for getting me in the Hall of Fame. I replaced him, and I joined the band as a lead singer/bass player. We auditioned one man, only one man. That man has been one of my closest friends for 43 years: David Coverdale. To be fortunate enough to play with Ritchie Blackmore, Ian Paice and one more time everybody, give it up for Jon Lord. Yeah… So I want to thank my manager, Paul Geery and Ernie Buck from PGM Management. I want to thank the greatest girl I've ever known in my entire lifetimes, my wife, soul and loving partner, Gabrielle. You take my breath away. I am so so happy for us. A long time ago, I friend of mine said, "You've got to keep forever changing. Keep forever changing. Because music is the healer. Ladies and gentleman, my award is dedicated to the fans. God bless you all and have a lovely lovely evening.
The current lineup then performed a short set of Highway Star, Green Onions jam, Hush, and Smoke on the Water.
The grand finale jam was a cover of Fats Domino's Ain't That a Shame rendered in the arrangement from Cheap Trick's live album At Budokan. Roger Glover, David Coverdale and Glenn Hughes took part:

Hughes and Coverdale at the press conference:

Lars Ulrich at the press conference:

Thanks to Blabbermouth, BraveWords, Rolling Stone, and Billboard for the info and to MarchofTheRashbaum, Oscar Arias, and Artisan News Service for the videos. Photo credits: Theo Wargo and Timothy Clay.