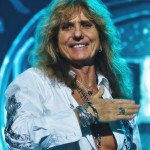 David Coverdale writes on his webstite:
It was 40 years ago this very day, December 9, 1973, when I had the indescribable honour of walking onstage with the extraordinary talents of Ritchie Blackmore, Jon Lord, Ian Paice & Glenn Hughes at the KB Halle in Copenhagen, Denmark for the very first time.The 'Burn' album had yet to be released, but, it showed the balls of the guys in the band to go out & play brand new, unheard songs to a rapturous Danish audience. An unforgettable experience for me. Thank you ALL for an amazing journey that continues today…

David Coverdale
Lake Tahoe
Dec 9, 2013
Thanks to Classic Rock for the info.