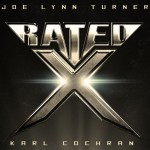 Joe Lynn Turner gave an interview to Metal Forces promoting the freshly released Rated X debut album. He said that guitar player Karl Cochran suffered a stroke while recording the album and Nikolo Kotzev had to finish it in his stead. He will stay with the band until Cochran recovers. He also mentioned that the band is hoping to book some summer festivals and is already working on a second album. Towards the end, conversation shifted to the rumoured lately Rainbow reunion:
I'm really concentrating on Rated X, and I hope it does very well. So far so good, and of course there's always the Rainbow reunion (laughs). Always. The completely rumoured, long-awaited Rainbow reunion. You never know with Ritchie (Blackmore, guitarist and Rainbow founder), so we'll see if that happens.
In my opinion, for Rainbow it would be one last shot and then going out in a blaze of glory so to speak. I think the fans deserve it, and to honour all of the members of Rainbow, past and present. I always feel that in my sets, I play Rainbow, Purple, and things like that because no-one else is doing it. I play Ronnie's songs and all that stuff, Graham's (Graham Bonnet, Rainbow vocalist from 1979 until 1980) whatever – I have no compunction about doing that material. I think it's all a part of the legacy, and that we should do it willingly as singers of the same band. I know Graham's still out there doing it as well, and Doogie (White, Rainbow vocalist from 1994 until 1997) in his own way. It's a big family.
Read more in Metal Forces.