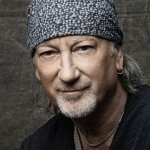 Back in September, the BassPlayer.com published an in-depth interview with Roger Glover, which for one reason or another, went under our radar until now. It covers most of Roger's illustrious career, from his first band The Lightnings, to Now what?!
How do you come up with your bass parts during the jam-to-recording journey?

Do you know the theory of the zen archer? The zen archer draws his bow back and as soon as he eyes the target he lets his arrow go. The reason is, the longer he hesitates and tries to make sure he hits the target, the more off he's going to be because his hands will start to shake. In other words, your first instinct is always your best bet. When I hear Paicey [Ian Paice] play a certain rhythm, I think, Now what can I play to that? Actually, I don't think; I just play it. It's not a thought process anymore. We've played together for so many years we automatically sync in together. From there, my part will be shaped by the keyboard and guitar. Don [Airey] has a way of making chords sound not so simple; the naughty chords, as they're called—they're jazz chords in the rock idiom. That actually gives me some room to maneuver, because the one thing I'm wary of is going [sings steady eighth-notes] on the root note just to keep the rhythm going. I always want to move a little within my part to add a bit of interest and a bit of jump. But at the basic level, the bass has to anchor and groove at all costs. I mean, you can get a little complicated on the bass, but it doesn't really help the song most times.
The question of Hall of Fame also came up and this is what Roger had to say (bear in mind, the interview was done before this year's nomination):
Deep Purple was finally nominated for the Rock and Roll Hall of Fame this year, but not voted in. Thoughts?

I don't care about it, honestly; it would have been quite disruptive to go through that at this time. Ritchie [Blackmore] would have had to be there, and deservedly so, but that has the hallmarks of a possible nightmare, so I'm kind of glad we didn't get in. One of the voters against us apparently said, "They don't deserve to get in—they're one-hit wonders." If that's the kind of people we're dealing with, who needs it?
Go over to BassPlayer.com and dig into the rest, it's well worth it.
Thanks to Andrey Gusenkov for the info.