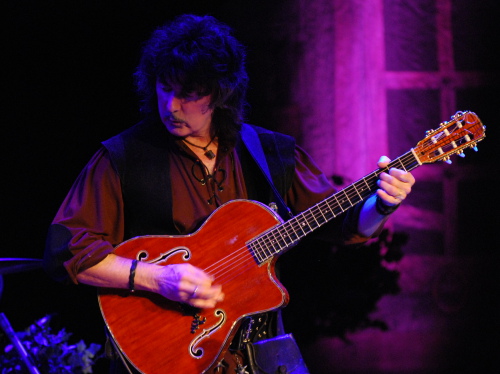 Blabbermouth reports that Blackmore's record company Frontiers is suing him for failing to adequately promote the latest Blackmore's Night album All Our Yesterdays. According to the complaint, filed on March 16 in Manhattan federal court, Blackmore received a $220,000 advance for the album and signed a contract guaranteeing his "full support to the promotion surrounding the release of the album" and using his "reasonable best efforts to help and support all the activities and promotions (including but not limited to interviews as settled by the [Frontiers] and its representatives)".
The complaint then goes on to enumerate the laundry list of refused requests for interviews, TV appearances, and other grievances. For example, in France he only granted 4 out of 14 requested interviews, in Germany he refused 6 TV appearances and two interviews interview with leading national publication Bild (among 25 to 30 stories in less respectable outlets). And so on and so forth.
The record company claims that his failure to adequately support promotion of the album resulted in poor sales and is asking for $150,000 back (presumably, the non-recouped portion of the advance).
Blackmore's lawyer denied the allegations, calling them "ludicrous".
Here endeth the fact and starteth the opinion.
It is well known from history that Blackmore does not give many interviews. He did not exactly start this behaviour in 2015. What have changed? Sales so poor that the record company can't even recoup the advance? Methinks that it was not the poor promotion to blame, but poor material. It is this editor's humble opinion that having once established a successful formula with Fires at Midnight and Ghost of a Rose, the band had stagnated and each subsequent album was more of the same and less and less exciting. Perhaps that is the reason for poor sales, and not his failure to grant interviews and appear on TV?
Thanks to Blabbermouth and New York Post for the info.