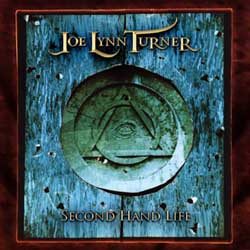 The new Joe Lynn Turner's solo album Second Hand Life will be released in Europe by Frontier Records on April 20. The album features a track co-written by Ritchie Blackmore and Roger Glover called "Stroke of Midnight". This one is probably a from the sessions for a follow-up to Slaves And Masters. Joe also collaborated on the songwriting for the album with Jim Peterik (ex-Survivor), Bob Held, Karl Cochran (Ace Frehley), and Martin Briley. Karl Cochran also played guitar and bass on the album, Bob Held bass, Gary Corbett keyboards and Michael Cartellone (ex-Damn Yankees, now with Lynyrd Skynyrd) drums.
Second Hand Life track listing:
01. Love is Life
02. Got Me Where You Want Me
03. Second Hand Life
04. In Your Eyes
05. Blood Red Sky
06. Stroke of Midnight
07. Over the Top
08. Cruel
09. Sweet Obsession
10. Love Is On Our Side
11. Two Lights (European exclusive bonus track)
You can check out audio samples at Frontier Records.
Thanks to Blabbermouth.net and Frontier Records for the info.