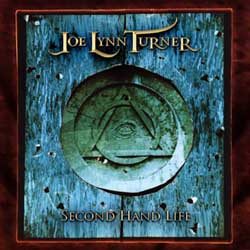 Joe Lynn Turner's web site posted a studio report on his new "Second Hand Life" solo album. In the track-by-track comments there are some interesting bits giving insight into Purple connections of the album:
Second Hand Life

This is a song that came out of the Deep Purple sessions with Jim Peterik in Roger Glover's studio. Jim was brought in to commercialize the band in the same way that Def Leppard and Aerosmith were reviving themselves at the time. Peterik is an amazing writer, as witnessed by his hit band Survivor. Just as an aside, the title was inspired by this booklet that writer/producer Desmond Child gave me when he was living in a commune here in the States. The song talks about how most people live a second hand life that sets out to please our parents, so we often never become ourselves. We end up trying to be what society and parents want us to be so we really are never free to be ourselves!!! It's as if our lives are being passed down like an old pair of shoes. This song rebels against this concept as if to say "cut the strings…be who you want to be." A very strong statement!
Stroke of Midnight

This was written for Deep Purple, complete with Blackmore's great riffs. We recorded this song when I was in the band working on the follow up to "Slaves and Masters." Purple re-did it as "One Man's Meat." I have Ritchie's blessing do it the way we did it originally and my version is pretty close. It centers around a classic bluesy riff and lyrically is about a dancer who leads two lives—a private life and a life on stage as every man's fantasy. There's a real person underneath that image people see and we want to know who she really is! Jim Peterik is also credited as songwriter.
Cruel

We nearly did this song when I was with Deep Purple. It was written many years ago when touring with the JLT band.
Thanks to www.joelynnturner.com for the info.