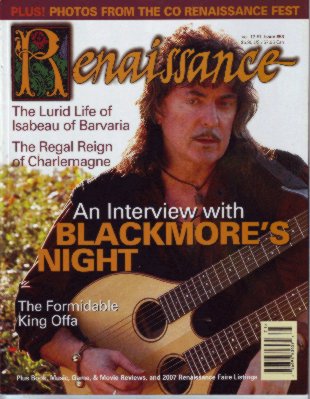 As we announced earlier, Blackmore's Night are featured in issue 53 of the Renaissance magazine. Ritchie is on the cover and there is an extended interview with both him and Candice. You can subscribe and order back issues on their web site, although issue 53 is not in the back catalogue yet.
In other news, several new Blackmore's Night fan sites are now operating:
UK Fan Club site has a long way to go in terms of filling it with the content, but already has a lively forum. Norwegian site has an English section which is so far empty, Brazilian site is all in Portuguese. Being linguistically challenged in both languages, I can't comment on the contents of either. Nevertheless, we wish them all good luck!
Thanks to Mike Garrett for the info.