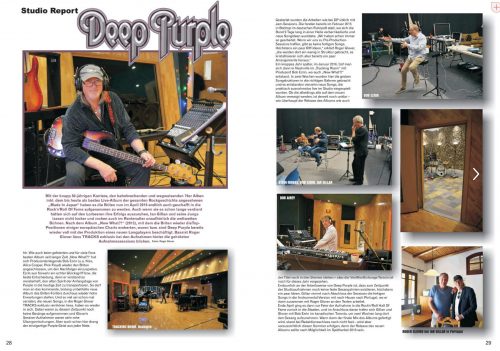 Swiss music magazine Tracks has a Deep Purple studio report in their July/August issue. If you have followed our news thoroughly, there is not much in the article that you don't already know. Our correspondent summarizes the gist for the rest of us who do not speak German:
in February 2015, the band met in Bottrop, Germany for the writing/jam sessions;
followed this year by the recording session in Nashville, with Bob Ezrin producing;
after which Gillan and Glover met in Portugal for writing the lyrics;
the vocals were recorded in Toronto after the HoF induction in April;
14 tracks were finished but not all of them might end up on the album.
Roger also mentioned in early July that he expects to hear mixed album for the first time somewhere around the Montreux date (which was July 16th).
Release date was mentioned in several interviews as being penciled in as some time early next year.
The magazine is available for your viewing pleasure online. Look for the pp 28-29 spread.
Thanks to Yvonne for the info.