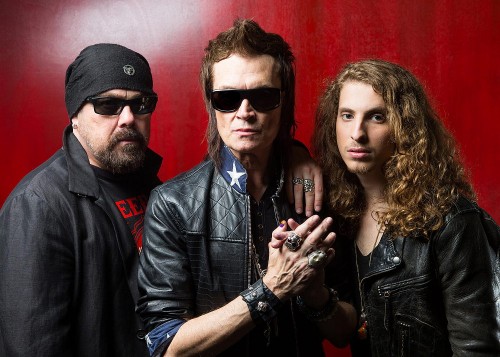 Classic Rock Revisited has a new interview with Glenn Hughes, talking about California Breed:
Jeb: What pushed you [to get an unknown guitar player]?

Glenn: I won't say too much, but after Black Country broke up, it was kind of private, but some of my friends said that they could do some shows with Jason and me. It was really nice of them to say that, but I knew it would only lead to me wanting to do more with these guys, who were very famous guitar players. I knew if they sat in with Black Country that I would want to do more with them and they would not be able to do it, and it would be just like the scenario with Joe.
A few more months down the line we met Andrew. I wanted to make a specific type of rock album. It was difficult for me think who would play guitar, if it was not going to be one of my famous friends, or Jason's famous friends. It was not going to be Jimmy Page. It was not going to be Steve Vai. I would have loved to play with these guys…like Slash. I love to play with Slash, but they would all be available to play sporadically, but not all the time, and I wanted a band. We got the opportunity to have this young man cast into our lives. I really believe in fate. I am old enough and wise enough to know to get out of my own way and to let something greater than me—I am not talking about God- but rather the greater universal thing of getting out of my own way and letting things flow. I am ambitious. I am a workaholic, but I am not the type of person who can do 100 things at once. I like to do one thing and I like to do it 100%.
Read more in the Classic Rock Revisited.
Thanks to BraveWords for the info.