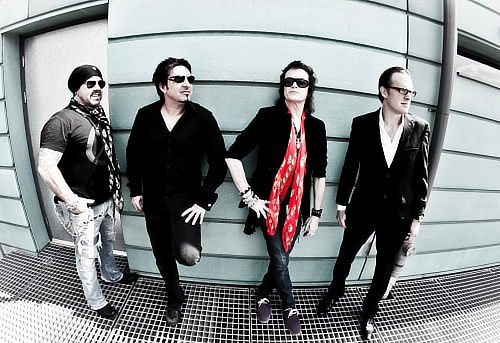 Jeb Wright of Classic Rock Revisited interviewed Glenn Hughes in an attempt to shed the light on comings and goings of the band known as BCC:
[…]Now you know why I became frustrated and went into this, "God damn it, I just wish we could take this on the road" rant. Jason, Derek and I really wanted to go all the way with this band.

As a recording band, we've done everything possible to build a foundation. With Afterglow, and the other albums, we've set the blueprint of what Black Country Communion is. The future is unknown.

I get excited by the music of this band and I want this band to do more. I can't be in a band that only makes albums. I am 61; I've got to make records that I can promote live. This is not 1988. If we had made these albums in 1988 we would have sold ten million albums. The only way to move forward in 2012 is to play live.

Going back to Joe's template, it has always been that way, but it has been unspoken as of late. You must understand that in the heat of the moment people can say things. It has been very obvious to people this band needs to play live and these questions become rather tedious. I have learned it is better to just punt or say nothing. Whatever I say to you, or what Joe said to you, people will be taking potshots at us.

Black Country Communion is one of the great loves of my life. I have been on the playing field with this band and I can walk off the playing field with this band knowing that it was something wonderful for me in my golden years. I've got gold and platinum albums all over my walls and I've gotten all of the accolades that I could ever want. I've got a nice comfortable lifestyle. The most important thing for me has been the great love of Black Country Communion. I want it to grow but it is not really in my hands.

I'm not pointing fingers at anyone here. You can hear in my voice how much I love this band. If you spoke to Jason or Derek then they feel the same way.

I won't die for Black Country Communion. I won't hang myself on the cross and die for this band, I won't do it. Everybody has given their all here. I have put things on hold and I've lost income to do this thing because I really believe in this band, period. The fans, literally, thousands upon thousands, want to see this band live. I am not manning the controls of the good ship Black Country Communion, so I don't know where we will go.
Jeb: Is Joe irreplaceable in Black Country Communion?

Glenn: I won't go there. This band started with just me and Joe for six months. We would just get together and jam at each other's houses and we didn't even know we were going to be in a rock band. The idea of replacing one of the members does not appeal to me. The album has just come out and we are talking about replacing people. I won't go there. I want Black Country to survive. I think if you asked any member of this band the same question they would say we are all joined at the hip.
Continue reading in Classic Rock Revisited.