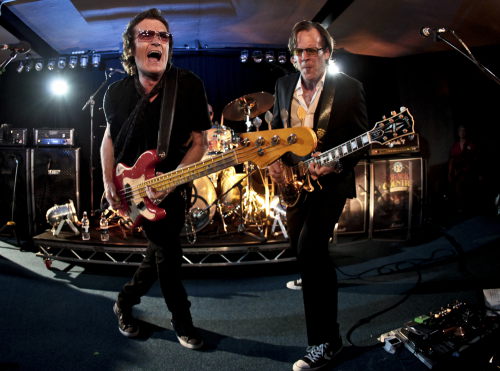 Glenn Hughes recently spoke to Jeb Wright and his interview now appears on Classic Rock Revisited:
Jeb: I think Derek is the band's secret weapon. His solo albums have great guitar players on them like Zakk Wylde. He is amazing.

Glenn: Derek's role is very, very important to our band. He is like Jon Lord was in Deep Purple. He is featured more on 2 because he is simply brilliant. Musicians are a weird breed, as is Derek, but he brings something very special to this band. With Joe, Jason and myself, what you see is what you get. Derek is really the glue that holds us all together.

Jeb: How does Black Country Communion, in terms of a band feel, compare to the version of Deep Purple you played in?

Glenn: It is very simple, around 1973, before all the shit started, things were great in Deep Purple. Being in the room with these guys is very much like being with Deep Purple at their peak. The musicianship in this band is of the highest quality and you've got to be very strong to be in this band.
Jeb: At what point will the business interfere with the music?

Glenn: I know what you're referring too. The elephant in the room is that there is no such thing as record sales anymore. There are no CDs and everyone just downloads music. Young people growing up will not even know what CDs were. Now, we are looking at the 3D performance and we are looking at Blu-rays and the visual aspects of the performers. People want to look at, and try to touch, the live aspect of the band. This band, BCC, is embracing this. We are shooting a Blu-ray in July in Germany that will come out around Christmas. We are looking at the visual side of our band. I am very involved in the marketing of the band. Joe is not too involved with that as all he wants to do is play guitar. Kevin Shirley and I are the ones who are dealing with where this band, visually, will go in the future.
Read more on Classic Rock Revisited.
Black Country Communion tour starts on June 9 in San Diego, California, and will continue until early August throughout United States and Europe. Their new album, simply called 2 is due out on June 14.
Thanks to BraveWords for the info.