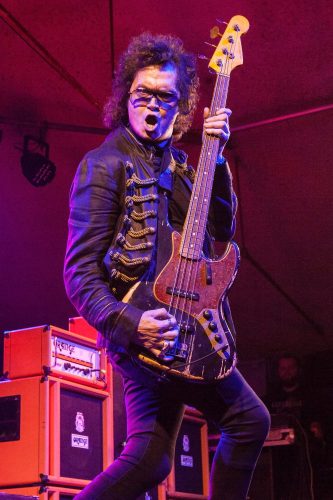 Glenn Hughes has been announced in this years lineup for the Ramblin' Man Fair. His interview was recently posted on their website to promote the appearance. The interview briefly covers his whole career, from Trapeze to Black Country Communion IV (that's how the new album will be called — "We wanted to call it IV because we wanted to get back to the numerals.")
His take on joining Purple:
Is it true that you only signed up because you thought Paul Rodgers was going to be the singer?

It was a big reason why. I said, 'If you're looking for a bass player to take Roger Glover's place, I'm not that guy.' And they said, 'Well we're going to ask Paul Rodgers to sing', and very quickly my brain went, 'Hmmm… wouldn't that be an opportunity to sing some stuff with one of the greatest blues rock singers in the world?" And then when Ritchie Blackmore said to me, "We want you to sing, and we want to have another guy in the band with a bluesier, deeper voice…", I signed on the dotted line. And then of course the next week we all found out that Paul had joined Bad Company.

But the way it turned out, singing with David Coverdale was perfect. Purple wanted to get away from the vibe of what Mark II was, the Gillan and Glover thing. They didn't want anybody to play like Roger, they didn't want anybody that sang in the way Ian sang – he didn't have a bluesy voice at all. What they wanted was for two guys to come in, one guy to share vocals with another guy, and one guy to play a different kind of bass. Which they got.
On how California Breed folded:
Then, when it came time to tour, Jason [Bonham] started hanging out with Sammy Hagar. He said, "Can we do this tour in the next window instead?" We were opening for Slash in Europe and Alter Bridge in America, and the tickets were already on sale, so I said, "Jason, I can't not show up – we're gonna have to find another drummer."

Andrew's a big Queens Of The Stone Age fan, and he wanted to get this guy in [QOTSA drummer Joey Castillo]. I was like, 'OK, whatever.' But it didn't work. I was left with a young kid and I drummer that I didn't particularly want in the band. When you're in that situation, it's not going to happen.
Read more on RambinManFair.com.
The festival will run July 28-30th this year, and Glenn will perform on Saturday 29th at
the Planet Rock Main Stage. Tickets are available.
Two days earlier, on July 27th, Glenn will also appear at the Premier Suite Lounge in Cannock in an "up close and personal" homecoming event (that's the town where he was born and bred).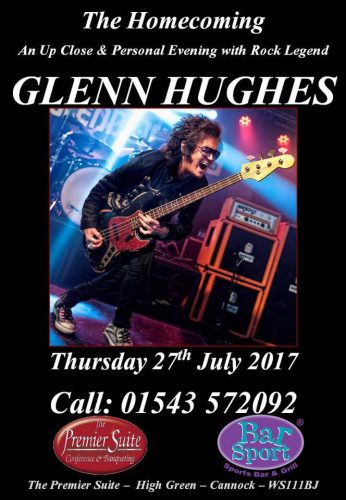 Thanks to Yvonne and Express & Star for the info.