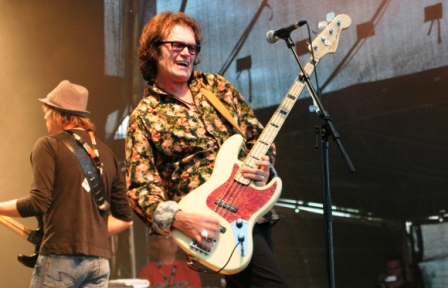 Glenn Hughes did an interview with Metal Express promoting the upcoming UK leg of his Classic Deep Purple Live tour.
When you joined Deep Purple back in 1973, was it always on the basis that you were to be the bassist and also as an occasional singer or did you expect to do more lead vocals?

When they asked me to come to New York they asked me if I'd sing with Paul Rodgers and when they asked if I'd play bass, I said no, I was a singer. When Paul Rodgers was mentioned I said that I'd take it because I loved his voice so much. Of course, Paul wasn't available and that's when they auditioned David Coverdale so I was always going to be second singer. I was happy with that.

How did you view David Coverdale at that time seeing as you all had a lot of recording and performing experience and David had hardly any?

David didn't really have any recording experience at the time so I took him and eased him in and made him feel comfortable. I actually loved sharing the microphone with David and love singing with other people. I share vocals with Joe Bonamassa in Black Country Communion and you can see how graceful we are together, we have a real rapport. I actually try to get Joe to sing more but he wants me to sing and he wants to play guitar more.
He also mentioned that a documentary will be filmed during this tour and a couple of shows will be recorded with the prospect of a "proper" live release as well.
Read more in Metal Express.
Thanks to BraveWords for the info.