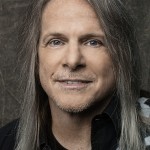 Music Radar has track-by-track commentary of Now what?! from Steve Morse:
A Simple Song

This was Rog playing a dyad riff on the bass. We had a lot of variations on that part. Whenever anybody brings in an idea, they have to be prepared that it's going to change. But this thing of Roger's was simple and elegant enough that we pretty much wanted to leave it as was.

I made a little melody, and Ian worked up what he was going to do vocally. It is what the title says it is: a simple song. No big guitar solo. It didn't need it.
Read more on Music Radar.