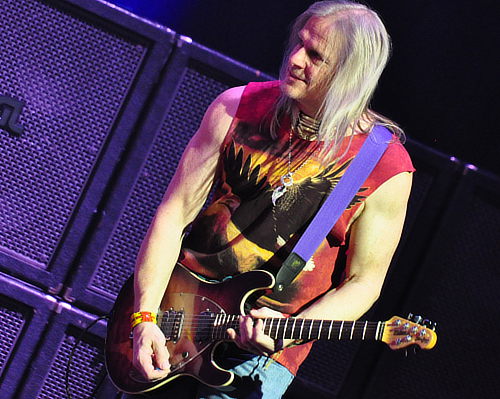 Jeb Wright did an interview with Steve Morse for Classic Rock Revisited. In this lengthy interview, Steve talks about Flying Colors, Purple, and his obsession with Native American art.
Jeb: You are not an egomaniac musician and neither is Neal Morse. Did that make the process of having all that creativity manageable?

Steve: I certainly appreciated it and I really respected the amount of talent that everyone has, that's for sure. I've gotten a little bit spoiled by always getting to work with great musicians. What really blew me away was the writing process. I was spewing out ideas and so were they, and nobody had a chance to get a word in edgewise. I was actually struggling to keep up. I really think this is one of the favorite albums I have ever been involved in.
Regarding Purple:
Jeb: Do you see your career, at some point in the future, going away from Deep Purple and more into the area of Flying Colors?

Steve: Yes, I definitely do. I don't think Deep Purple can keep up the level of touring that we do, forever. I have always pushed them, sometimes too hard, for some control in the scheduling so that I can book stuff when there is a touring gap.

The problem I keep running into is that when a gap becomes available, then it is too late to book the dates for my solo stuff. I don't find out about the dates being totally open until pretty late in the game. That is my only complaint with Deep Purple; I wish I had more control over the schedule. I think it is naturally going to slow down, somewhat.
Jeb: I hear a new Deep Purple album is on the way.

Steve: There is one coming up. The way we do it is that we record some ideas without vocals and then we present the ideas to Ian [Gillan]. There is more writing sessions scheduled in May, and then we will start recording in June and July.
There is a lot more where this came from.