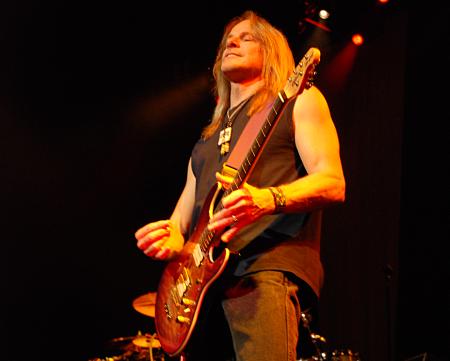 Steve Morse spoke to Something Else! Reviews about the new album and the late Jon Lord:
NICK DERISO: Over the years, you became very close with (late co-founding keyboardist) Jon Lord. It must have meant a lot to you to have been a part of his final album, the very long-awaited studio version of Concerto for Group and Orchestra.

STEVE MORSE: The original concept was not to have us involved with it, so that it wouldn't be diluted — and wouldn't give people any expectations that it would sound like Deep Purple. So, it was a big deal. I'm one of Jon's biggest fans. I connected with him very intensely, especially on our first album (together, 1996′s) Purpendicular. He just had this certain something; he could hear things that no one else could. When everyone else was saying 'nah, that's not working,' Jon could say: 'Wait a second. Let's just twist it this way, and look again.' So, it was a big deal that Jon asked me. Originally, when he did the concerto with Deep Purple live, that was sort of hurriedly done — though Jon had spent a lot of time writing it. The second time we did it, when I was in the band, it was still with Deep Purple. This was his first chance to do his own recording without being associated with Deep Purple, and from what I understand he didn't really intend to ask me to do it. He just got used to the way that I played some of the sections. He was describing to the guitarist maybe in too much detail, trying to get them to recreate the way that I did it. I guess it just got easier to ask me.
Read more in Something Else!
Thanks to Andrey Gusenkov for the info.