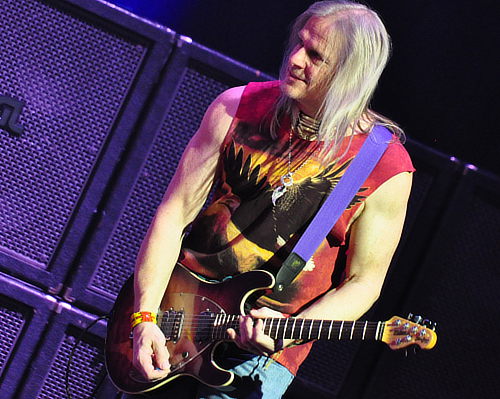 The Glide magazine has done a very interesting interview with Steve Morse. He talks about Flying Colors, growing up as an outsider in Georgia, his passion of flying and his passion of music:
You have played on so many albums and records doing different types of music. Do you have one that you're more comfortable with, a particular genre that maybe excites you more than playing the others?

Well for me to answer that would sort of be a nebulous answer by saying something like Flying Colors, where there is no particular name for it. In other words, where each song can kind of live it's own life. Like if you're in a death metal band, you can imagine there's a certain vibe that has to happen all the time. Same way with a country band or the same way with a polka band playing at weddings (laughs). So I like bands that feel free enough to have variety within the album and within their live set. And that seems more essential to me. In general, I think audiences are more tolerant of variety than music business people are.
…And his plans:
What do you have planned for the rest of the year?

In a couple of weeks, Deep Purple has a writing session and we're producing an album with Bob Ezrin, who's done KISS, Pink Floyd, Peter Gabriel, Alice Cooper, and he also worked on the last Kansas album, when I was with Kansas. So he's one of my favorite producers and that's going to be our studio album. It's probably going to be more of an extravaganza. Everybody realizes we're not going to do this forever, so to me it feels like this is a really important album to do well. So we've got that coming up and mixed in with that, and that is most of the summer with the album, and then I have to leave when they're doing vocals on that to do the G3 tour. Then I have to come back, repack my suitcase and we go out with Flying Colors and the plan is to do a couple weeks in the US and then a couple weeks in Europe. That brings us to the end of September. Oops, I'm late for the G3 tour and got to get on a plane to go down to South America. Then before they go to Mexico, I have to leave the tour to come back and go straight to Russia with Deep Purple. Then I may have to come back from Russia all the way to the US and repack my suitcase and go back for another five weeks in Europe. Then it's Christmas and then another year has gone (laughs).
In summary:
Bob Ezrin as a producer seems to be a done deal.
There will be Deep Purple writing and recording session (Roger Glover recently hinted that it starts in May), after which Steve goes on tour with G3 (starting in late July) and Flying Colors (tentatively in September).
The band reconvenes at the end of October to tour Russia and Europe, by which time the album will be hopefully finished.
Read more in Glide magazine.
Thanks to Blabbermouth for the info.