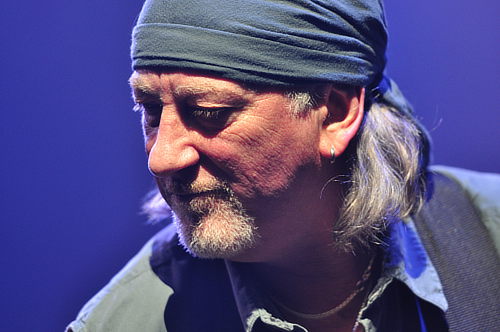 Roger Glover posts an update on his website. Except it's not an update, really, but one of those semi random collections of musings which are always a fascinating read.
Sometimes I write music. I am excellent at imagining a song in my head and then battling to get some semblance of it down on tape before I forget it. Unfortunately, the simple series of notes plucked out on an acoustic guitar rarely seem to convey the mammoth-sized roar of energy I hear in my head. I promptly forget it! I have literally thousands of these snippets scattered in boxes through all kinds of formats – cassettes, CDs, DATs, cameras, Dictaphones, pieces of paper, and even reel-to-reel tapes. Without being too modest, approximately almost exactly roughly about 97.8% of these ideas are rubbish. Obviously, what I heard in my head could not be replicated, or at least I couldn't do it. I listen to some and wonder where on earth my head was at when I pressed 'record'! Of course, there's the odd one that actually does turn into a song, but I have this notion that photographers take hundreds of shots to get the perfect one, artists paint over their mistakes, and so I have to write enormous amounts of crap to get one decent idea.
And the update part is:
I have the concert with Tolo Marton in Venice next week followed quickly with a writing session with my old band in May.
Read more on RogerGlover.com.