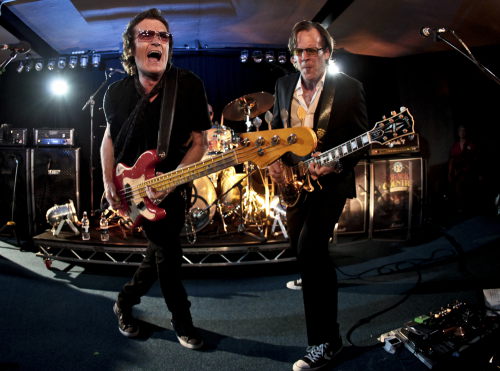 Guitar World has a lengty interview with Glenn Hughes, where he talks about everything from his humble beginning as a trombonist in a school orchestra, to Deep Purple, to Black Country Communion, to the late Gary Moore.
Would you say you were the driving force behind Deep Purple's groovier sound in the mid-'70s?

That's a great question — but no one put a gun to my head telling me to be me. I mean, if you study those records, like Burn [1974], which was where David Coverdale and I came in, replacing Ian Gillan and Roger Glover, we were brand new, fresh, living in this castle, writing the album. We're getting along really well, as Ritchie Blackmore does with every new member that comes in -– he's a great guy. The album was more what you would consider to be rock-focused and Deep Purple-sounding, with its majestic keyboards and Blackmore's insane guitar playing.

But when Stormbringer [1974] was being written at that same castle, Ritchie didn't come in with any songs. He came with only one track, one idea. So it was left up to David, John and myself to come up with the goods, if you will. And we started to write things that were groovier, more melodic. I really liked the direction of Stormbringer, but left to my own devices, I'm gonna be — you know — left to my own devices. I think it would've been silly for David and me to come into Deep Purple and ape Ian and Roger. It would have been pointless.

Am I the man who killed Deep Purple? I don't think so. I think every band from that era, even if you look at Led Zeppelin, if you look at their first four albums, they're extremely different from one another, and I've never made the same album twice. There are other artists who I shan't mention — all good friends of mine — who have this one-dimensional sound, and it really works for them.

For me? I'm not driven by the mighty dollar. I'm driven by the artistic form of writing music that is different from the last album, while still keeping a focus on what the general direction should be. I don't take responsibility for Blackmore leaving Deep Purple because of the music I was writing. If you look at the annals of Deep Purple, you'll notice that Blackmore, every second or third album, would like to change the vocalist anyway.

When you listen to those albums, including Come Taste the Band [1975], you'll notice they're very much three different albums because, if you're between 18 and 25, that's when you're really growing musically and spiritually, and I'm proud of what I've done. I've never been a one-dimensional rock artist. I can't help myself.
Read more in Guitar World.
Thanks to Blabbermouth for the info.