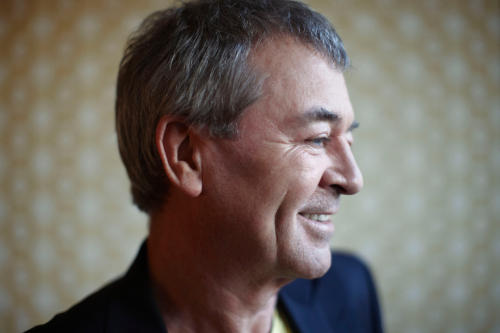 Unfortunately, Wednesday Gillan's appearance on Rockline radio show didn't happen. Big Ian was supposed to appear on the show via a link between London and Los Angeles, but there appeared to be technical difficulties with the link. The host of the show, Bruce Coburn, first played a couple of tunes off One Eye To Morocco trying to buy some time, but eventually said that Gillan's appearance will have to be rescheduled and a recording of the 2006 promoting Gillan's Inn was put on the air. We will let you know of the new date (if any).
Since printed word does not have such limitations (especially when published online), Martin Popoff interview with Gillan have appeared on BraveWords without further delay:
"Brilliant, amazing, best thing they've ever heard; of course, this is only from the first 200 journalists I've spoken to," laughs the mischievous but always charming leader of the greatest hard rock band ever (Gillan) and also the fourth (Purple), on his new rock-lite solo album One Eye To Morocco.
One Eye To Morocco is out now on Eagle Records. Touring it is unlikely, as Ian and his celebrated graybeards are pumped and primed to enter the studio soon to at least consider the idea of a next Deep Purple studio album.
Read the whole interview on BraveWords.
And to relieve the frustration of the botched Rockline appearance, here is Pete Feenstra's insightful interview with the man:




Thanks to BraveWords, Glen Miller, Nigel Young and Daniel Bengtsson.