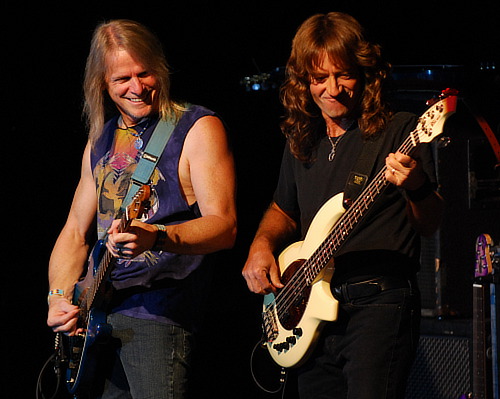 Back in May, when Steve Morse was intermittently touring with his eponymous band, he spoke to WITH 90.1 radio station, broadcasting out of Ithaca, NY. They have published the transcript of the conversation. Here are some Purple-related bits, not that the rest is not just as interesting…
Q: Did your technique or style change at all after playing Deep Purple songs for 28 years?

SM: Yeah, I think so, in my phrasing and just a tiny, tiny, tiny bit more patience with letting things develop. But you can hear that, and a little bit more relaxed approach, a little bit more competence at improvisation. And I'm not driven so much to cram as much in as possible into a segment. So yeah, I feel I've grown as far as being able to write and improvise more melodically.
Q: I saw you with Deep Purple on the 2002 tour with Dio and Scorpions, and was impressed that the band's musicianship was still so strong.

SM: When I first joined them, we only committed to four shows together – they weren't sure of me, and I wasn't sure of them, especially since I didn't want to be in a nostalgic band where the guys couldn't play anymore.

I was warming up, with just me and my amplifier, and I played something. And Jon Lord had just sat down at his organ and played the exact same thing back to me without any hesitation. I played something else, and he played that back and then modified it. And then I played that new modification back to him. By then, the whole band was on stage playing a beat underneath us – even Ian Gillan started playing the congas – and it was just this wonderful, organic jam. And that's what really brought me into the band – like, here I am trading licks with a keyboard player who has ears like a great jazz pianist. I couldn't believe it.

And then when Jon left, Don Airey turned out to be just as capable with the musicality – he had a different style, different personality, and different upbringing, but he was exactly the same caliber of musician, so I was very impressed.
And from his mention of Janine, sounds like she's doing fairly well:
[…] I'm focused on helping my wife transition back to the land of the living. We've had appointments all this week, and it's been just constant stuff. But it's definitely worthwhile and this is definitely what I was meant to do.
Read more on withradio.org.