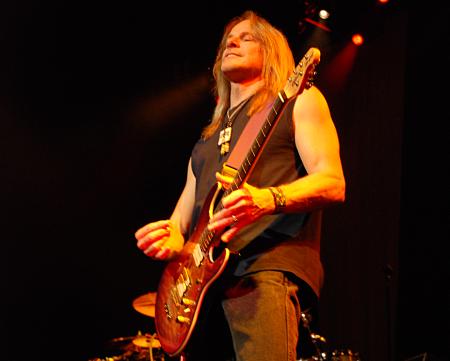 Deep Purple have finally broken silence about the upcoming tour with an orchestra when Steve Morse spoke to Examiner about it:
So Deep Purple is touring with a symphony orchestra?

Yeah. It's not exactly like the symphonic tour that we did where we're actually playing symphonic music that Don [Airey, Deep Purple keyboardist] had written and some Deep Purple songs. We're going to play our set, basically, and have accompaniment on some songs, sort of like if you imagine some of the old Motown songs where they added strings and horns to a song to spice it up. And that's the approach [the band] want[s] to take on this tour. So we're arranging things as we speak.
He also spoke about what it is to be the only Yank in the band, Gillan's barefoot habits, Japan, and (as if straight from the 'don't give them ideas' department) his touring plans:
Is there any place that you haven't played yet that you're looking forward to?

Oh, yeah. I'd like to see — and this is not a joke — Antarctica. Because I'm fascinated with technology and how people cope with things. Since I'm a member of Deep Purple, and have played outside in the snow on top of a mountain, in a desert (laughs) and in a monsoon in Korea, I think, outside, getting drenched, it seems like if we can play anywhere, we might as well go to the most extreme gig possible, and that would be Antarctica. Maybe even the North Pole, I don't know. But there's some parts of Africa that we haven't been to, and that would be interesting, especially if they were able to accommodate all the power and logistics for the band. The adventure never stops.
Any other messages about the tour?

If anybody hasn't seen the band, we don't get to the U.S. very often, so I would suggest this is the time. And the band is a live group; It's all about the energy vibe. We have one of the best keyboard players in the world [Don Airey], and just a fantastic rhythm section. You know, the icons of rock and roll. So check it out if you're ever kicking yourself for not seeing the classic artists when they come around. Deep Purple doesn't hit the States very often.
Read the whole interview on examiner.com.