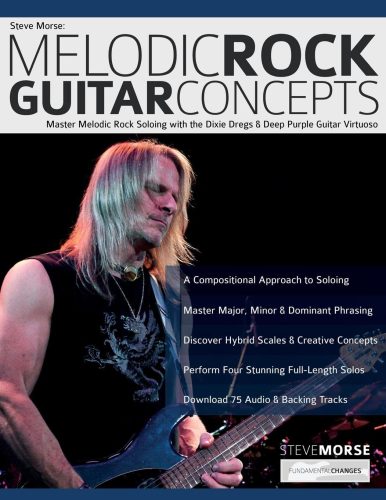 Steve Morse has co-authored an instructional book Melodic Rock Guitar Concepts that was published February 1. It is 88 pages in English, plus 75 downloadable audio examples and backing tracks, along with clear notation and tablature.
Melodic Rock Guitar Concepts shows you the influences that have shaped Steve's unique guitar style and he shares how he has adapted is favorite country licks into a rock context. You'll also discover how Charlie Parker was a great influence, and how to recreate many of Steve's chromatic bebop inspired licks.

You'll also learn how Morse visualizes scales and master a set of challenging picking drills to sharpen your technique.

To conclude, Steve presents a guitar masterclass on how to create tension/resolution in your solos while adding some outside-inside interest.
The material here is taught around four original tracks, specially written for this book.

Track 1 – Teaches you dominant chord focused phrases with a New Orleans-style funky rocking groove

Track 2 – Offers major chord focused phrases over an energetic, driving rock tune

Track 3 – Teaches you minor chord focused phrases with a mid-tempo hard rock blues with a twist

Track 4 – This is a heavy blues that showcases tension and resolution and explains how Steve utilizes the Half-Whole Diminished scale

For each track you'll learn:

The rhythm guitar part
A complete solo, often with multiple guitar parts
A detailed solo breakdown taught via a series of two- and four-bar examples
The book is available in Kindle and paperback format from Amazon, and as a PDF from the publisher. Amazon also offers to check out a few sample pages (click on the Look inside logo above the cover).
Thanks to SteveMorse.com for the heads-up.