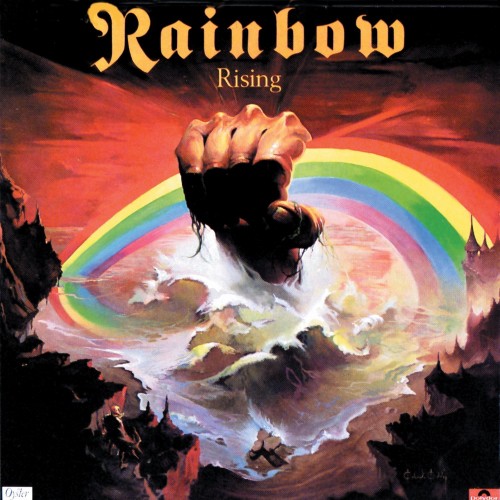 Geir Myklebust posts on his blog a Rainbow Rising review by Geoff Barton that first appeared in the issue of Sounds from May 22, 1976:
"WITH RAINBOW'S music I intend to carry on and expand upon the essence of Deep purple — aggressiveness — and at the same time add a kind of medieval feel to it all."
Thus spake Ritchie Blackmore in a SOUNDS interview dated August 2, 1975 — the last time, to my knowledge, the one-time Deep purple guitarist visited Britain. Of course, it's been even longer since he actually played here and while this is disappointing I can't help but feel, in a twisted, abstract sort of way, that this lengthy absence from his home country hasn't altogether worked to his favour.
Bearing in mind the recent, much-discussed poor British displays of the Tommy Bolin incarnation of Deep Purple, Ritchie Blackmore is now, to most people, a hazy, indistinct, albeit fond, memory. A good deal of mystique surrounds not only the man but his band as well.
For, at the moment, Rainbow is an uncertain, undiscovered property, not being the band that appeared on last year's amorphous debut album. Gary Driscoll, Mickey Lee Soule and Craig Gruber have long since left the fold, only Blackmore and vocalist, lyricist Ronnie James Dio now remain. The rest of the group is, to British audiences at least, new and untried.
The Rainbow has, however, been carefully crafted, put together with no small amount of precision by Blackmore and Dio. The outfit now comprises, besides the aforementioned duo, Scottish bass player Jimmy Bain, late of Harlot; Tony Carey, Keyboard player, California-born, ex- of a band called Blessings; and old-timer Cozy Powell on drums, whose past credentials vary from the 'Ruff And Ready' Jeff Beck Group to a teenscream 'Dance With The Devil' solo career.
Continue reading in My Things – Music history for those who are able to read.