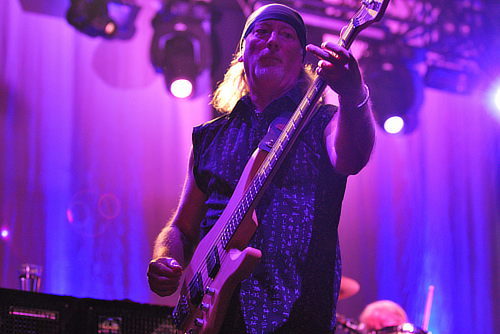 Our favourite bass player shares some amusing travel anecdotage in his latest installment of Road Life:
One of the things that intrigues me about rock concerts – everyone afterwards has a different story to tell. Did the band suck? Weren't they fantastic? They didn't play the favourite song, the bass player's cute, the sound was awful, the drummer rocked, they're not as good as they used to be… the best band in the world!

Every single person in the room, be it a club or an arena, has had an adventure just getting there; the missed train, the last minute babysitter, meeting old friends, the weather, the broken-down car, the lucky parking, the lousy meal, the great seats, who's got the tickets? Potential catastrophes and near misses, highs and lows – nights to remember. Sometimes shit happens but most people who have done this many times know the hows and wheres of attending a rock concert – what to prepare for and what to avoid, what to bring. The seasoned fans have it down; travel light, take only what you need – water, a bit of cash, phone, camera, lightweight clothing. On the other hand, casual fans can easily get confused just finding the right entrance, the right seats, disposing of their overcoats, locating toilets.

Musicians go through similar experiences, or rather we would if we didn't have people to guide us through the maze of endless backstage corridors and concrete staircases. And our road stories are just as varied and memorable, at least the ones that I can remember, as anyone's.
Continue reading at RogerGlover.com.