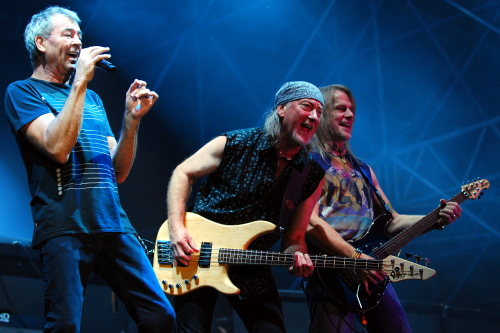 As the New Year approaches, here's the summary of the upcoming tour dates we have lined up so far.
Glenn Hughes will do a brief tour of Brazil in December, rounding up the year with a 2 date public live debut of Black Country Communion in Wolverhampton and London.
Gillan will kick the year off with an orchestral tour of Germany, Czech Republic, Austria and Switzerland. The tour is billed as "Rock Meets Classic" as Ian Gillan, Lou Gramm and Dan McCafferty will perform with the Bohemian Symphony Orchestra Prague conducted by Philipp Maier. Steve Lee from Gotthard was also on the bill, but he tragically died in an accident on October 5 this year.
Deep Purple are wrapping up their lengthy European tour leg and will reconvene in February in Mexico. We have two dates that went on sale so far: Zapopan and Mexico City. After that they're off to Eastern Europe where they have 5 dates in Russia, Ukraine and Belarus at the end of March. These are not confirmed by the band's management yet, although the Eastern European dates come from a pretty reliable source.
Jon Lord will perform his Concerto in Germany in May with various local orchestras. Three dates have been confirmed: Koblenz, Frankfurt and Stuttgart.

Then it's the Deep Purple's turn to do "the orchestra thing" as german promoter KBK has just announced four dates in July. There is a date in Italy snuck inbetween those, at a picturescue ancient Arena di Verona.
As usual, full details in our events calendar. Please email additions, corrections, tour info, etc to our tourdates editor.