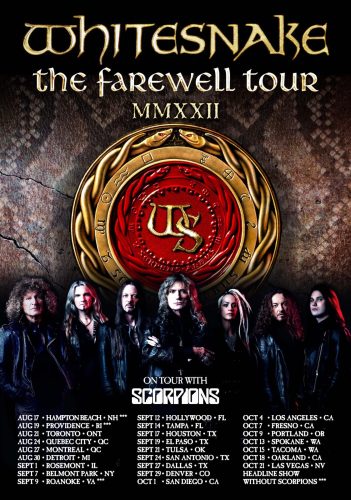 Whitesnake have announced US and Canadian dates for their farewell tour. The trek will start on August 17, 2022, in New Hampshire and wrap up on October 21 in Las Vegas. Most of the dates DC & Co will be supporting Scorpions, with a few gigs headlining on their own: New Hampshire, Providence RI, and Roanoke VA. The tour is scheduled at a rather leisurely pace, with breaks between shows as long as 6 days. Which leaves open the possibility of adding an odd gig here and there.
Tickets go on sale to the general public on May 13 at 10am local time. Presales start on May 10 at 10am local time. Presales password is farewell, albeit even the official site is not sure if it's lower case or upper and advises to try both.
Full details in our calendar.