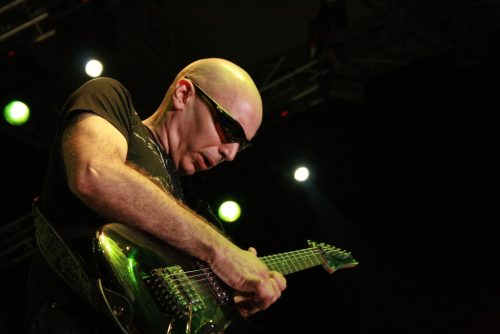 Joe Satriani gave an extended interview to Vintage Rock, where he explained how Deep Purple influenced his latest album called The Elephants Of Mars:
You do have these cinematic qualities in your music where certain visuals and shapes must be popping into your head when you're writing and playing.

Yeah, it is important. As I mentioned many times in the social media interviews about that song, the title track, I'm listening to something that I played and it got me thinking: How am I going to be motivated to finish this song? And I realized I needed a backstory. And so I concocted this story about the scientists terraforming Mars, and by accident, they create a whole race of gigantic sentient elephants. And they can communicate telepathically to the colonists that are working on the newly terraform Mars. They can play crazy rock sounding music with their trunks and they get together with the guitar playing head of the revolutionary group to take back control of the planet from evil corporations — you know, a typical comic book kind of story.

That got me really excited because I thought that's funny, it's crazy science fiction, but it's also kind of funny. So when I told the story to everybody else, everybody got in the right mood. Kenny's drums are just really a celebration of fun, the way he plays, right from the beginning. I think it gave Brian the artistic license to just be really rude, to lay down a really rude bass part. All the way to the end where I think Rai was the last person to add the keyboards. He added a kind of a Jon Lord, a Deep Purple kind of distorted organ part. We had been talking years ago about how we love the vintage Deep Purple and how we love Jon Lord. When you tell that story to everybody, everyone gets in the mood and they go, "Now I've got this artistic license to really be crazy, to be a irreverent, to try some different things."
The question of his stint in Purple also came up, and the answer was an interesting one. For a long time the canonical story have been that he could not become a permanent member of the band and record with them due to contractual obligations. He now reveals that there were also other motives.
You've had opportunities to join bands. You could have joined Deep Purple. But based on the fact that your solo career is your primary focus and you switch out players from one album to the next, would it be fair to say you enjoy the freedom of playing with a variety of other musicians as opposed to being in a set band?

I took my cue from those players that were laying the groundwork for the kind of stuff I do, like Jeff back. I saw the freedom that he had to play with interesting players that would inspire him, to do different things. I thought that's really great. I love watching him live and I love his albums and he keeps you guessing and he's always progressing as a guitarist. He just keeps going forward. I love that attitude of just moving forward all the time.

He's not really hampered like a legacy band where they're going to have to play their hits. Like when Aerosmith goes out, they're just going to have to play those songs that are their hits. They got to play "Janie's Got a Gun," they got to "Dream On." They can't do a concert without it. But Jeff Beck really doesn't have to do anything he doesn't want to do (laughs). He can say, "No, this is where I'm at right now, check this out. No one else can do it. I can do it." (Laughs) I love that attitude. It's a dangerous move. You miss all that input from a band and you miss the chance that you can go mainstream. It's very difficult for Jeff Beck to go mainstream like Aerosmith or any other pop band where you're talking billions of streams and TV appearances and all the awards, that kind of stuff. However, everybody knows and respects Jeff Beck as a player, as a musician, as a composer, and they wouldn't dream of him changing his attitude. We like him being the iconoclast that he is.

I had that choice to make when Roger Glover asked me to join Deep Purple. I just thought, I'm Joe from Long Island. I don't belong in this British royalty metal band. I knew I just didn't belong. I was a big fan of Ritchie Blackmore and I thought I'll never be able to rectify it. I'll always feel guilty that I have to copy Ritchie and I didn't want to do that. I've had friends who've had successful turns replacing famous people in bands. But I remember what they would always say at the end of it. I remember Steve Vai telling me once, "Joe, if you can avoid it, don't ever replace anybody famous in a band because the fans — they never let you forget it. You're always compared to the first guy, the original guy." So I thought I'm going to take the chance. I've got a good relationship with my fans, and we'll stick together and try to just make better and better albums.
There's a lot more in the interview, we just touched on the Purple related bits. You can check out the rest at Vintage Rock.
Photo credit: George Laoutaris CC BY-ND 2.0.