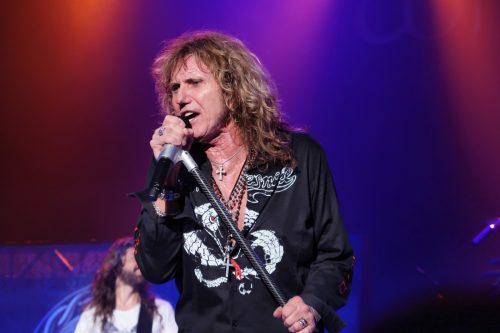 There is a David Coverdale feature in the British newspaper The Independent.
He began writing "secret little poems", which eventually became lyrics once he'd taught himself the chords to The Yardbirds' 1965 single "For Your Love", and as a teenager he sang in a handful of local bands. Then, in 1973, destiny came calling while he was at work as a shop assistant, a job he'd taken on the basis that it would allow him to keep his hair long. "I was working in a boutique called Gentry and reading the Melody Maker," Coverdale recalls. "There was a totally Monty Python picture of Jon Lord sitting down at his organ. Underneath it said: 'Deep Purple still haven't found a singer and are considering unknowns.' That was Willy Wonka's golden ticket."

At the time, Deep Purple, who had released "Smoke on the Water" as a single earlier that year, were one of the biggest bands in the world. To apply for the job of replacing frontman Ian Gillan, Coverdale had to send in a tape of himself singing as well as a photograph. This presented a problem, as the only picture he had of himself was as a Boy Scout. "I had to borrow it off my mother," he says. "I was wearing terribly stained short pants and doing the 'Be Prepared' sign. I said: 'Dear Deep Purple, as you can see I'm always prepared'. The drummer Ian Paice called [guitarist] Ritchie Blackmore and said: 'This guy's got a great tone. He's obviously rat-arsed, but he must have a good sense of humour because he's sent a picture of himself as a Boy Scout!' That was just because I had nothing else! I'd sent it off with my mother's insistence that if you don't get this back there'll be trouble, because she'd had that on her mantlepiece forever."
Read more in The Independent.