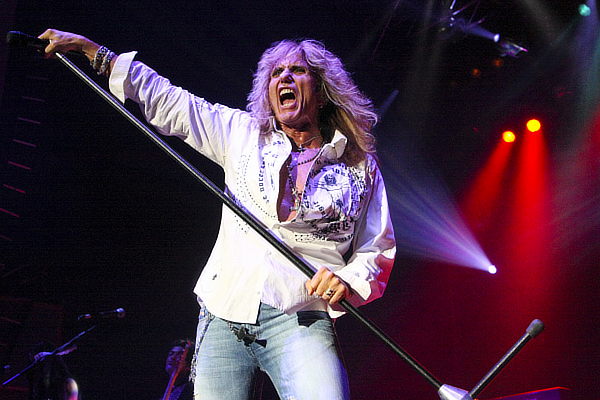 David Coverdale gave an interview to the Metal Express Radio. He spoke about his new live releases, the upcoming British tour, his humble beginnings in Redcar, his family, and Jon Lord:
MER: Jon Lord has been a really big loss to the music world.

DC: The world is a lot worse off for his loss. I was so, so honoured to have known him and to have worked with him in two big bands. I can so easily visualise him right now. I remember bumping into him at a hotel a few years ago when he was on his way to Australia and we just sat down and had a drink together and the time just flew. It was so much fun to see him. Jon was extraordinarily articulate, charming and such a funny man. He was so gifted musically too and I totally miss him. He was from Leicester so he had a good bloke energy about him so he was able to sit down and bloke it with the best of them. It`s weird you know. I have a big 65" TV in my gym to try to distract me from the pain in my knees and it`s wired into Apple TV so I can access all my photographs. I have around 20,000 photos on there. I put in on shuffle and there`s lots of personal photos on there and lots of music related photos too. When a picture from the Slide It In era of Whitesnake came up half the band has passed away. Jon Lord, Mel Galley and Cozy Powell are all now gone and that`s such a shame. It`s chilling, it just stops you in your tracks. I really miss them all; they were great musicians and fantastic to play with. Loss is tough and to find the time to grieve and process that is difficult particularly in a public scenario. People ask how I feel when I lose a close friend but how do you think I feel? It`s hard to lose such people. The only contact I have now is with the daughter from Jon`s first marriage. On the day he died I had all my family here, it was the Olympics at the time and I just couldn`t get a flight or a hotel. We were laughing about that and in times of sadness sometimes it`s easy to grieve in laughter. Sara, his daughter joked that it was really inconvenient of her Dad to die at that time. Jon would have loved that. We talked about everything and anything.
Read more in Metal Express
Thanks to BraveWords for the info.