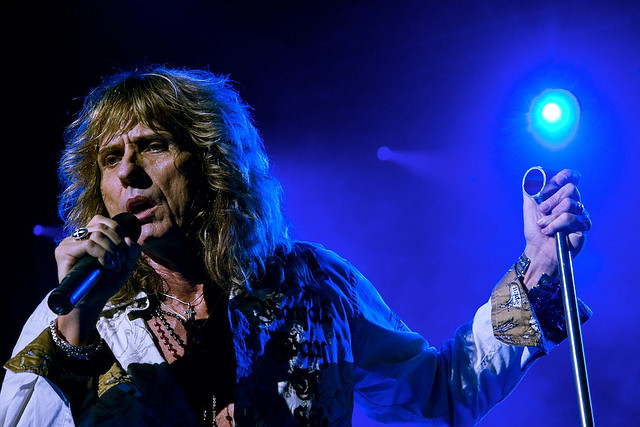 Guitar International has an interview that David Coverdale recently gave them. He talks (mostly) about the new album and about-to-be-started world tour, delving into history from time to time.
Rob: What songs from the new CD are you going to do live?

David Coverdale: I'm not telling you! Not telling you! I actually gave you a few giveways [Laughing]. The big stuff for Whitesnake was Slide It in and beyond. Interestingly, in the past my American shows would be vastly different than the Asia or Europe shows. Now I'm going "fuck it, we're going to do Aint No Lovin and Heart of the City and Walking in the Shadow of the Blues. All of the things I want to do."
Rob: With so many '70's bands being nostalgia acts, why do you continue to make CDs?

David Coverdale: If I didn't put out new CDs, I'd be on American Idol. I would rather go home and be a house husband and take up knitting. That's why I work with such inspirational musicians. Another incredible thing is when we put the word out that we're looking for new snakes, people line up. The guitarist can't wait to do Still of the Night the big penis song for guitar. All of that delights me!
Rob: Looking back on your career was there ever a song that you wrote that you were confident would not be a hit and it was or vice versa?

David Coverdale: I have no regrets. I'm not the type of person who says "if only this" or "if only that." I do remember having a stand up argument with my management, Geffen records, and executives at MTV that I wanted Judgment Day from Slip of the Tongue to be the song out of the box. They all wanted the redo of the older song "Fool For Your Loving. I though the original version was fine. I think this came from John Kalodner doing his behind the scenes manipulations. Fuck it. I wouldn't change anything. It's good being me!
Ah, the typically humble David.
Read more on Guitar International.
Thanks to Blabbermouth for the info.