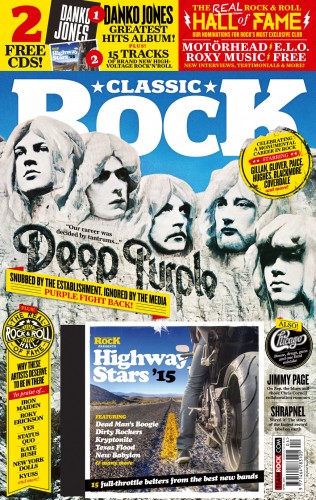 …Or, at least, to his manager.
Classic Rock has some quotes from DC appearing in the April 2015 issue of the magazine (the one with In Rock on the cover, see above):
The tragic loss of Jon made me finally realise that life is too fucking short to hold animosity, bitterness and resentments.

So I decided to reach out to Ritchie to share the sense of grief and loss of Jon with him, and to express my gratitude to him for bringing me on board Deep Purple.

During the conversation we did discuss the idea of getting back together in some way, which was Jon's wish.
After several discussions with Ritchie's manager I felt I didn't share their vision of the project. I sincerely wished them well and respectfully withdrew.
During this time I pulled out the albums and started messing around with some of the songs – rearranging ideas, adding a new bit here and there.

The bonus for me was I rediscovered my love for that time and the work all of us achieved together. Magical times.
I felt I had to prove myself. I knew I had been given an incredible opportunity and didn't want to blow it.

But, my God, I was so young and naive. Thrown in at the deep end to sink or swim. The two sci-fi lyrics I wrote for Mr Blackmore, Burn and Stormbringer, I'd never written like that before. But then again I'd never been given music like that before.
Classic Rock April 2015 issue should be on sale now (or very soon) at a good newsagent stand near you.