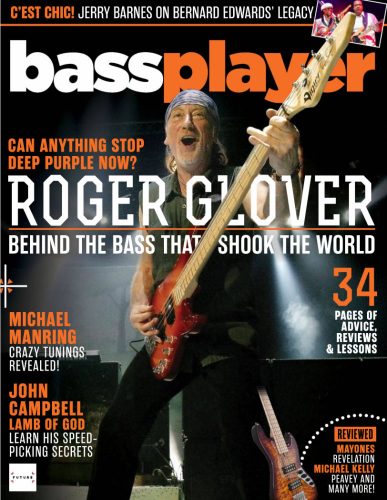 An interview with Roger Glover is the cover feature of September edition of the Bass Player magazine. They talked about the pandemic, the new album, Bob Ezrin, bass gadgets and widgets, the dynamics inside the band, Jon Lord, and many other things.
Presumably there won't be any Long Goodbye tour dates in 2020, then? "No, this year's gone. All the touring we were going to do this summer is going to be shifted to the summer of 2021. I don't know dates yet, but I don't think there's anything until then, unless we get together and have a bit of fun." Deep Purple—Glover plus singer Ian Gillan, guitarist Steve Morse, organist Don Airey, and drummer (and sole remaining Mark I member) Ian Paice—are a widely distributed band, making online sessions an obvious option in lockdown. However, an all-Purps Zoom jam isn't on the cards, says Glover. "We're five individuals stretched out around the world, and it's difficult to co-ordinate," he explains. "I wanted to do an online jam session, or something like that, but that was voted down because of latency or some other issue. Paicey's doing a thing on Youtube called Drumtribe, though, which is interesting—it's an insight into how we work."

Have a look—it's an insight into Purple at work in the studio, not a common sight by any means. "I remember in the old days the management or record company weren't allowed in the studio when we were making music," says Glover. "There was a dividing line between business and music. We did the music, they did the business. That's pretty much the way it's been. We're not secretive in the studio, exactly, but we don't invite people in for a party, either. Paicey had cameras all over the place, for what reason we didn't know at the time, so what you see of us in the recording, doing the actual takes, is new."
Read more in Bass Player.
Thanks to Yvonne for the heads up.