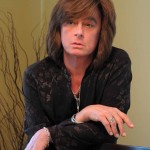 Rock Overdose has recently spoken to Joe Lynn Turner and has published a teaser for the upcoming interview. The teaser, naturally, features Joe explaining how he didn't get the latest Rainbow gig:
I'll tell you what happened. And that's the short story. For over a year I was talking with his management and we wanted to have big plans with an authentic Rainbow reunion, with the integrity of the old members, with Doogie, Graham. Everyone singing, everybody playing. This what the fans really should see. Not what he is doing now. I believe it's a cover band. And we wanted, I wanted, to be involved only if this was the situation. So, when he started to back off from that situation, I set this whole thing back and said: "If you want to do this, I'm not gonna be involved", because for me, it's a cheap way. And I don't think the fans deserve it. I think it's a shame that he feels this way. So, to make it short, I said I am not involved and then he would comment on the press and the newspapers that Joe Lynn Turner is not involved and he doesn't know it yet. Well, I knew it. And it was a very classless way to announce that to the world and I don't respect that very much. And I don't think anyone should respect that. But that's his problem. I'm not angry about anything. I just feel that I wasted my time in trying to make an authentic Rainbow reunion happen and I was betrayed. The fact of the matter is that I wouldn't want to do it any other way. What he is doing now, is a cover band. I don't think he gives anything to the fans. You could hear Ritchie play, but so what? That's it. And I think a guitar player of his stature, should have the best way possible to return. I don't think he made the right decision. That's all I can say. He can do what he wants. Most people were saying that I was crazy, I was delusional, when I was talking about his return to rock and laughed at me. And I was upset about it. At the same time, I am not anymore. I was telling the truth. People should understand that I always say the truth. And what I said today IS the truth. I wanted an authentic Rainbow. Not this. So, good luck, Ritchie. I wish you well.
Complete interview will presumably be published by Rock Overdose some time in the future.