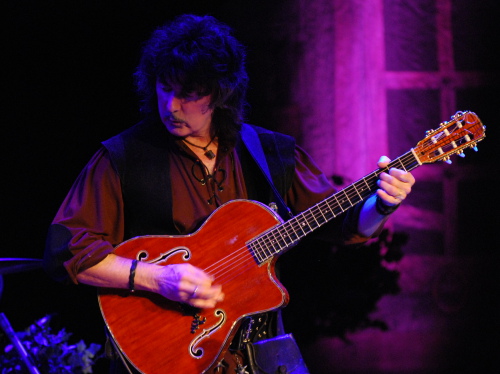 Blabbermouth has quotes from Blackmore's interview to Dutch magazine Aardschok. We presume that the interview in question is the one that appeared in the January-February issue of the magazine, and that the quotes were translated back from Dutch.
Here's what we can learn from the interview:
He thought on and off about going electric for a while now, but got "the final push" after he heard the singer Ronnie Romero.
The setlist will be comprised 70% from Rainbow and 30% Purple, with Dio era (including Stargazer) being central part of the show, plus a mix of JLT, Bonnet, Gillan and Coverdale.
His acoustic style requires him to have long nails, which he has to cut short for the electric shows. This limits how often he can play electric in order to continue with Blackmore's Night.
He does not rule out a second round of electric shows, but not until 2017.
Read more in Blabbermouth.