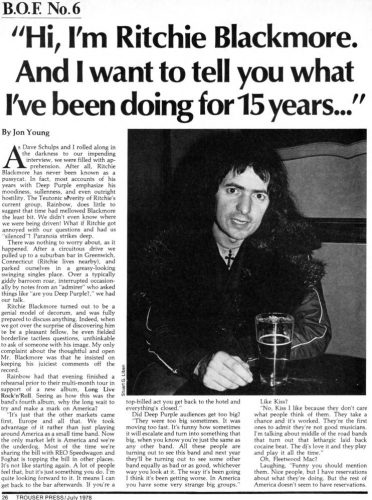 Trouser Press was a music magazine published in New York during the late 70s to early 80s. Their entire magazine archive is now available online, and issue 30 from July 1978 has a very interesting interview with Ritchie Blackmore. Where, for once, he is serious for the most part, and provides his thoughts at the time on the contemporary music business, his peers (from Beatles to Fleetwood Mac, spoiler: he's not fond of either), the creative process in Deep Purple and reasons for leaving the band and forming Rainbow. He is also highly critical of his songwriting, citing that he thinks his improvisational abilities are superb, and he can write riffs, but not very good at "putting a song together".
Read the interview in Trouser Press #30, pp. 28-30. Bonus: there's an ad for Long Live Rock'n'Roll on page 13.
Other Purple family mentions in the magazine include:
Issue 21, page 22: a feature called Heavy Metal: Down but not out and subtitled A survey of survivors gives an overview of Purple spin-off bands as of 1977: IGB, P/A/L, Rainbow, and DC solo effort.
Issue 34, page 21: Blackmore gets a mention of the list of best 100 guitarists;
ibid., page 48: a scathing review of the brainchild of record company accounting department — When we rock, we rock, and when we roll, we roll Purple compilation.
Issue 29, page 46: a short and not terribly favourable review of the just released Long Live Rock'n'Roll.
Issue 43, page 43: also not terribly favourable review of Down to Earth.
Issue 63, page 37: mostly favourable (for a change) review of Difficult to Cure.
Issue 33, page 9: a brief review of a Rainbow gig in New York City, during which the guitar player walked off the stage 20 minutes into the set; refunds were offered.
Issue 40, page 2: a short note on post-LLRnR Rainbow lineup changes.