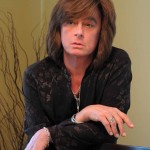 Joe Lynn Turner recently gave an interview on Eddie Trunk's satellite radio show, and Blabbermouth has big chunks of it transcribed. And what is transcribed is mostly JLT taking pot shots at Blackmore for excluding him from the Rainbow comeback, and insisting that he's not feeling sour grapes at all.
I thought it was a classless thing to do that Ritchie by announcing in [the French newspaper] Le Parisien [that he was going out and playing RAINBOW and DEEP PURPLE songs with a new singer]. I had to laugh. [Ritchie] said [to Le Parisien], '[Joe Lynn Turner] doesn't know it yet.' And the first thing I said was, 'Well, I think he's making a mistake, but he doesn't know it yet.' What I mean by that is, Ritchie's allowed to do whatever he wants to do, and he always does. I have no sour grapes about this, so let that be told. But I think a man of his status, an icon, really deserves a lot more. And what we were trying to put together, and we had a turnkey operation with Live Nation, the biggest festivals of the summer; we had UMG — that's Universal Music Group, for those out there that don't know — we had Universal [express an interest in releasing] box sets; we also had Rock Fuel Media, a huge video company, going to put out a DVD and the whole thing. I wanted to do a new album — at least four cuts — and maybe redo some other, older cuts in a new way, sort of update them. So this was a huge package and it was gonna be a big deal. And apparently he didn't wanna do that. So it was a shock to me that somebody would turn down not only an incredible way to, sort of, go out in style, but also to make a whole bunch of money for himself, because he was set to make quite a bit of money on this one. So I wish him well. Like I said, I've got no sour grapes. I'm very busy and very fortunate and blessed, and I thank everyone out there for that love and support all these years that keeps me going. But I really wish he had done it a different way for the fans. I think the fans deserve better than a cover band.
Read more in Blabbermouth.