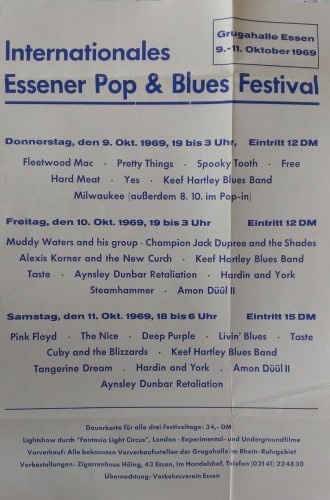 German TV show Rockpalast will be showing on March 28 a 4 hour retrospective on the Essener Pop & Blues Festivals held in 1969 and 1970. The broadcast is touted to include excerpts from the shows, contemporary TV reports, and concert specials. Footage of Deep Purple performing in 1969 is known to exist, so fingers crossed.
It's curious to see that in 1969 the band was yet to be considered a top of the bill performer and its profile is not even featured in the festival programme (unlike Muddy Waters, Nice, Fleetwood Mac, or Pink Floyd), ony an EMI advert for (then most recent) Book of Taliesyn. This would change shortly.
What: Essener Pop- und Blues-Festival 1969 & 1970
When: March 28, 00:45 – 04:45
Where: WDR Fernsehen
Thanks to Joerg for the info.