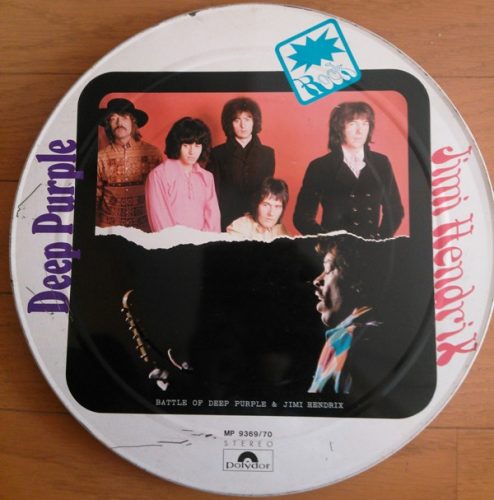 Our Japanese correspondent sent in this interesting piece of Mk1 memorabilia. It is one of those compilations that can now be considered as bizarre, but at the time probably made quite a lot of sense to the record company.
I bought this at a second-hand record shop in the 1970's. Entitled "Battle of Deep Purple and Jimi Hendrix", it is a round tin can with two LP's. The DP LP includes Hush, River Deep Mountain High, Prelude; Happiness, I'm So Glad, Hey Joe, Kentucky Woman, We Can Work It Out and April. Hendrix's LP includes 12 songs including Purple Haze. The record company is Polydor, and it was released after "Concerto for Group and Orchestra".

It is quite interesting that the liner notes categorize DP as the same genre as Pink Floyd, King Crimson, Moody Blues and Nice, but with a more hard rock taste. The notes describe DP as a band which became popular in the US first rather than Great Britain. Also that DP is band which does not try to exceed its maximum power with each LP, but rather is a "well-behaved" band which flourishes step by step. Whoever wrote this was in for a surprise when "In Rock" was released! Anyway, the band members look very young…
Many thanks to Akemi Ono for the info and pictures.