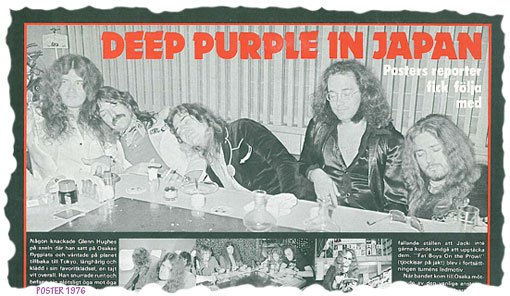 Mike Eriksson (of the Swedish Deep Purple Forever fan club fame) is posting a series of articles in his blog dedicated to what ended up being the last Deep Purple tour in the 1970s. Which, coincidentally, was happening 40 years ago as we speak — at the end of 1975 and beginning of 1976.
40 years ago now, Deep Purple were about to launch what would become the final tour of the 70s. There´s so much history of interest in those months when it all unravelled out of control and I´ve decided to highlight some of the most interesting highs and lows on this blog. The tour started in Hawaii on November 8, but we´ll get to that.

This version of Deep Purple spent some time in Europe and particularly the UK in October 1975 – Jon Lord, David Coverdale and Glenn Hughes guested on Roger Glover´s "The Butterfly Ball" concert at the Royal Albert Hall in London on October 16, a show that Ian Gillan guested as well. In fact, it was Gillan´s first gig after having left Deep Purple in 1973, and the roar of the crowd got him back into the world of music again. This event also featured actor Vincent Price, whom Deep Purple wrote a tribute to on their last album "Now What?!". But the interesting thing about this night in London was that a good chunk of the old Purple got to mix with the new.

The plan then was to do the Far East and then turn to America after Christmas, followed by gigs in Europe in the Spring and Summer, and then a second trek of the States followed by a break for other activities (solo albums etc). They didn´t quite make it, and it´s an interesting tale.
Read more in Trinkelbonker (the first 3 parts are rather short):
Thanks to Mike Eriksson for the info.